Fully automatic hydraulic press vibration cement brick making machine price brick cement machine
1. Machine Brief Intro.
Machine System

Automatically Making Concrete Bricks, Blocks, Slabs, and Pavers.

By using Raw Materials of Cement-Sand-Stone Powder -Fly ash-Water-Industrial Dust

40% Fine aggregate, 40% Rough aggregates, 15% Cement, 5% Water.

Machine Forming System

Table Vibration by Gear Axis Box (AC Motor)+ Mould Vibration (Side Way Motor )

+ Hydraulic Press (Hydraulic Cylinder)

Machine Frame

China National Standard New Pure Steel (3mm thickness)

Hydraulic System

Hydraulic Station With Water Cycle Cooling System; 'YUKEN-JAPAN' Hydraulic

Valves automatically controlling each action;

Branded Hydraulic Pump With Electric Motor. (SIEMENS motor is available for option).

PLC computerized controller

Smart Touch Screen; Electrical Components MISTSUBISH, OMRON,

TELEMECANIQUE are available.
2. Machine Detailed Specifications
Model

Parameters

YQT3-13

YQT3-18X

YQT5-15

YQT5-18X

YQT8-15

YQT8-20X

YQT10-15

YQT10-20X

YQT12-15

YQT12-20X

YQT15-15

YQT15-20X

Pallet Size (mm)

690 x 550

1100 x 550

1100 x 680

1100 X 850

1330 x 850

1400 x 1100

Forming Method: TABLE VIBRATION + MOLD VIBRATION + HYDRAULIC PRESS

Vibration Frequency (Times/min.)

4000

4000

4000

2800~4000

3600~6000

4000~8000

Molding Cycle (Seconds)

13~18

14~22

14~22

15~30

15~22

15~25

Pressure (Mpa)

16

16

20

25

25

35

Power Cons (Kw)

19

27

30

40

60

70

Total Weight (Tons)

5

6

9

11

15

18

Dimension

(L x W x H) MM

5100x4700x2550

6260x4700x2650

6450x2160x2650

6500x2200x2855

6500×2200×3000mm

6550×2260×3600mm
3. Machine Photos:
3-2. YQT5:
3-3. YQT8:
3-4. YQT10:
3-5. YQT12:
3-6. YQT15:
4. Production Plant Solution:
4-1. PLANT -A (Semi Automatic Plant, 5~10 workers)
4-. PLANT - B (Simply Automatic Plant, 3~5 workers)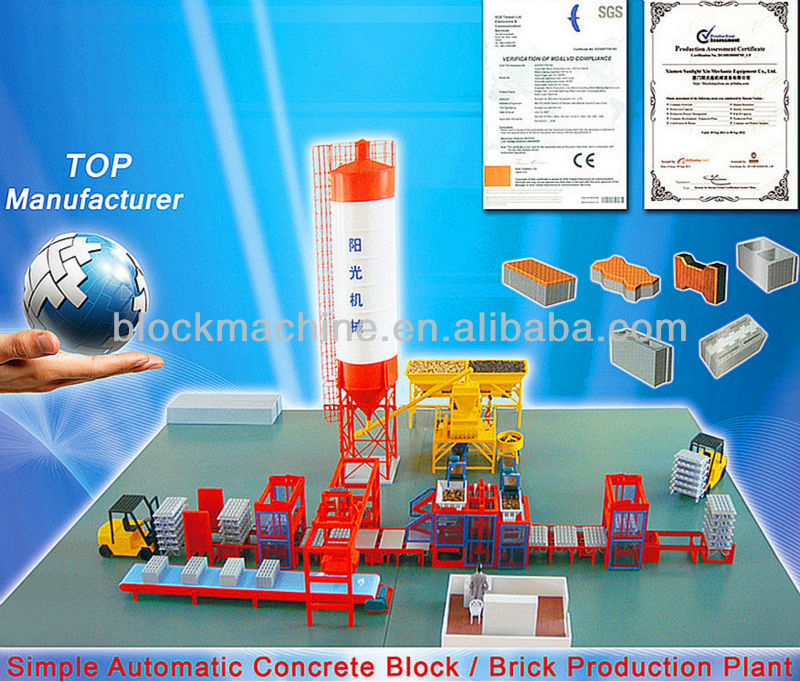 4-3. PLANT -C (Fully Automatic Plant, 2~3 workers)
4-4 CUSTOMER PROJECT SAMPLE
5. Block & Brick Samples: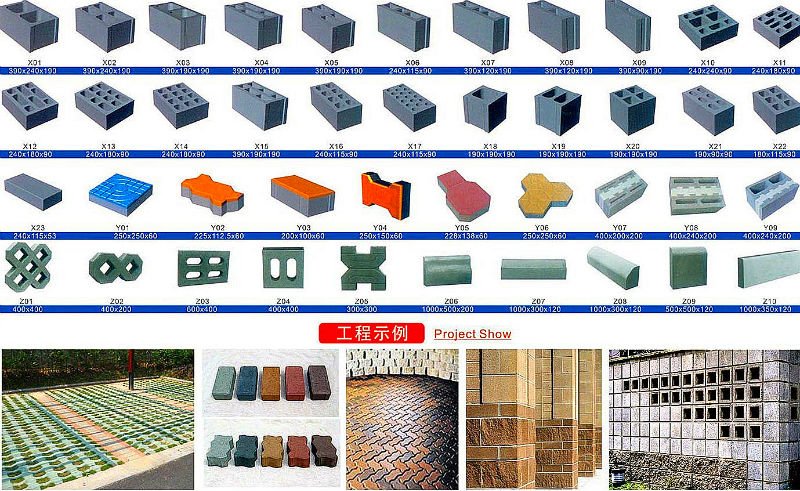 6. Company Certificates:
Website: www.xmyg.cn
SKYPE: xlw1234
Cell: 008613400670889